Mahallin' Down the GDMBR
Part I – Takeoff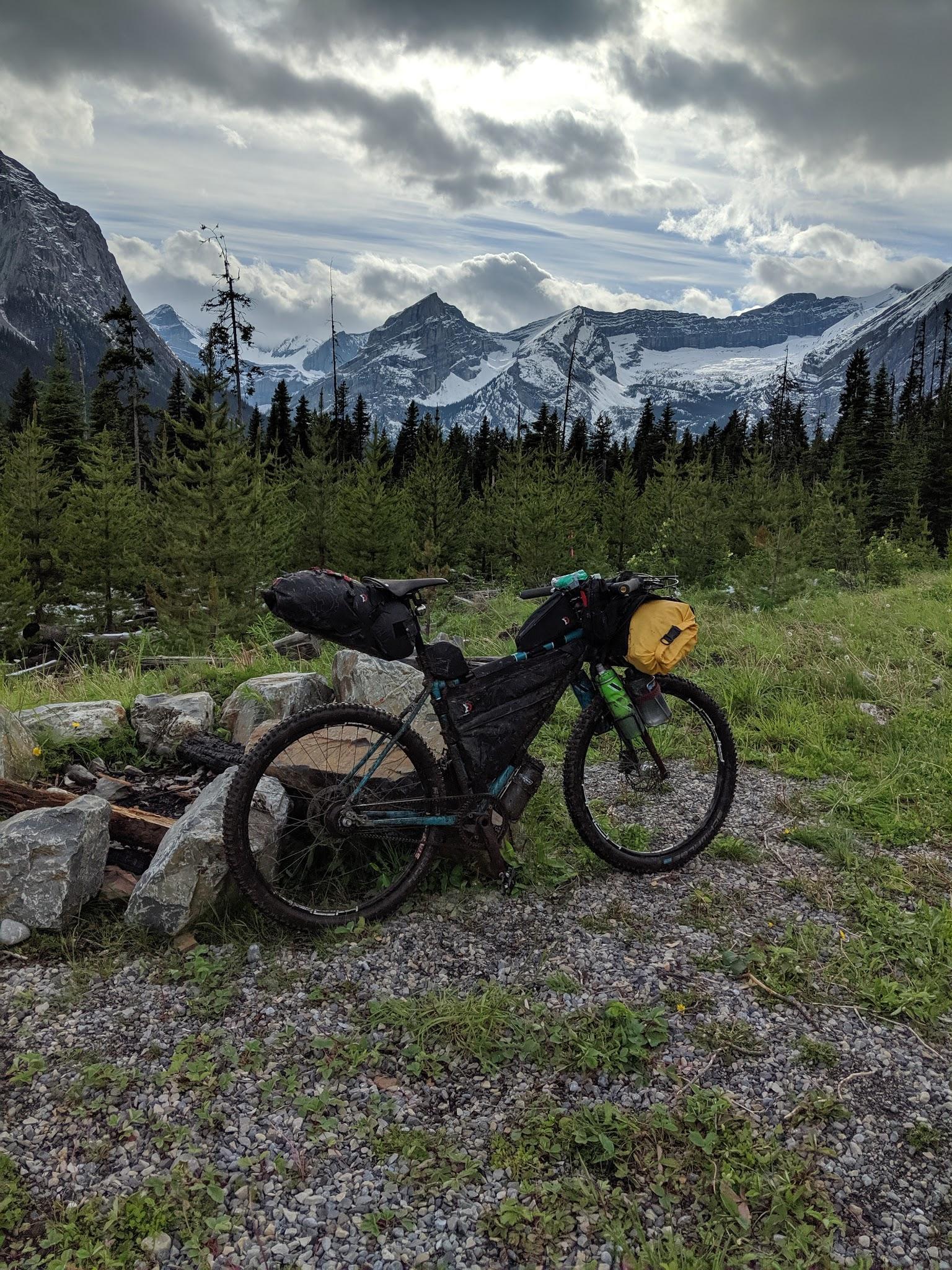 Words & Photos by Eric Melby…
The Great Divide Mountain Bike Route (GDMBR) is a cycling adventurer's dream. The route travels 2,747 miles from Banff, Canada to Antelope Wells, NM through the Rocky Mountains, criss-crossing the Continental Divide and some of the most beautiful terrain on the planet. After months of training and planning, and nearly a decade of dreaming, I set off to complete the GDMBR on June 22, 2019 on my trusty Mahall stead. Through this series of posts I will discuss some of the highlights of the journey, my gear, and bikepacking tips for those looking to set off on their own epic adventures.
Richland, WA to Banff, AB
An early hurdle a GDMBR rider must cross (besides the necessary planning, fitness, and a bit of insanity) is the logistics of getting one's self and gear to the starting line in either Banff or Jasper. I have many people to thank for enriching this incredible journey I had the good fortune of undertaking, and the first will go to the Miller family for delivering me and my gear to Banff. Ghislaine, Damion, Coco, and Lance planned a Canadian Rocky camping trip around my planned GDMBR departure. I cannot thank them enough for the ride, the good times camping, the use of their truck to pick up my riding partner Jeremy in Calgary, and a couple warm meals. They helped keep my mind off of the intruding doubts and fears that start to creep in just before setting off on such an expansive expedition.
June 22nd, 2019 – It's go time!

After properly fueling ourselves with a big breakfast in Banff (and taking a breakfast burrito wrapped to go), Jeremy and I headed out from downtown Banff – escorted by Damion for the first 30 miles. With so much time spent planning and dreaming about this route my emotions were running sky high. While it was a disappointment to not have Damion continuing with us for the length of the route, his light-hearted antics were just what the doctor ordered to help us appreciate what was right in front of us as opposed to being overwhelmed by the entirety of the ride we were just beginning.
Jeremy mentioned at the start of the ride, "I hope we see some bears, I have never seen one in the wild." Well, we saw our first grizzly bear not more than 20 miles into the day, fortunately at a safe distance. This was followed shortly by our first black bear sighting. Later in the day we saw a grizzly sow and cub grazing in a lovely meadow. I let Jeremy know that he had jinxed us for the entire trip (and little did I know at the time, but this was just the beginning of the bears).
Our jaws were continuously dropped as we took in the stunningly beautiful, snow-capped Canadian Rockies. A late season snow storm on the previous day – the first day of summer – dumped up to a foot of snow in these very mountains. The majority of the first day had us rolling along lower elevations that were snow-free, and just as we thought we were going to get away without running into any of the white stuff we began the climb up Elk Pass. We found plenty of snow, and the warm temperatures that day meant that we also found plenty of mud. This was the first of many times that I was thankful for my meaty tire choice, 2.35" Schwalbe Nobby Nics. No matter the conditions, but especially in messy conditions, I love these tires for bikepacking.
Following the slow roll over Elk Pass it was smooth sailing to that evenings camping spot, a lovely site along Elk River known as Weary Creek recreation site. An unexpected amenity of the Weary Creek spot was a bridge over the river, under which we were able to store our food and take reprieve as the sky opened up and the rain began to pour down just after we arrived. We took the time to reflect on an amazing first day, giddy with the fact that we were actually doing this thing. Feeling exhausted after the first day on the trail we scurried through the rain back to our shelters. Crawling into my bivy, peeling off my rain gear and shoes, and stashing them into a garbage bag to hopefully stay dry through the rain had me jealous of Jeremy's luxurious tent. If I do this thing again, I will definitely go with a light 1-2 person tent. Even with my mind racing about that day and what was in store for the next, I quickly drifted off to the sounds of the babbling Elk River.
Next up!
Part II – Whitefish and Mr. Hall