Mahallin' Down the GDMBR
Part II – Mr. Hall in Whitefish & the Birth of Mahall 015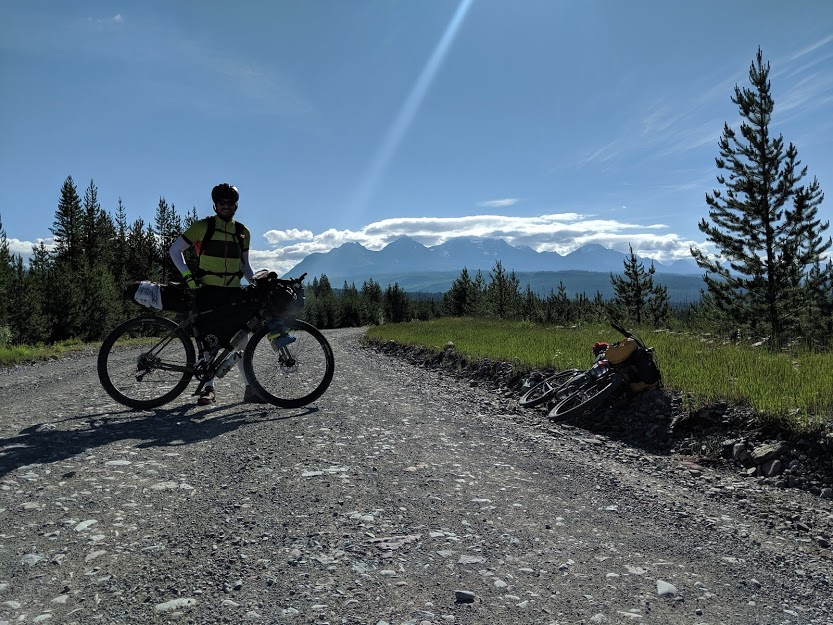 Image: Jeremy posing in front of a mountain range in Glacier National Park.
Words & Photos by Eric Melby…
The Great Divide Mountain Bike Route (GDMBR) is a cycling adventurer's dream. The route travels 2,747 miles from Banff, Canada to Antelope Wells, NM through the Rocky Mountains, criss-crossing the Continental Divide and some of the most beautiful terrain on the planet. After months of training and planning, and nearly a decade of dreaming, I set off to complete the GDMBR on June 22, 2019 on my trusty Mahall stead. Through this series of posts I will discuss some of the highlights of the journey, my gear, and bikepacking tips for those looking to set off on their own epic adventures.
A Friendly Face in Whitefish, MT
I was excited to get moving on the morning of June 25th, day 4 of the journey, because part of the day would be spent in Whitefish, MT with my friend and framebuilder, Mark Hall. Jeremy and I had spent the previous night at Tuchuk Campground, just west of Glacier National Park in the Flathead National Forest, after completing our first century of the trip. My excitement was chilled as I emerged from my bivy and felt the 25℉ air on my face, and my fingers were not thrilled about packing up and pumping water from the nearby stream. Besides the chilly start, it was smooth sailing on the ~60 miles from Tuchuk to Whitefish, during which we were treated with incredible views of mountain ranges within Glacier, a lovely lunch stop along Red Meadow Lake, and a sweet gravel downhill from the lake that extended for nearly 20 miles. Not long after I hit the pavement I was greeted with shouts from a passing car, and it was none other than Mark tracking me down to dish out beer and bananas!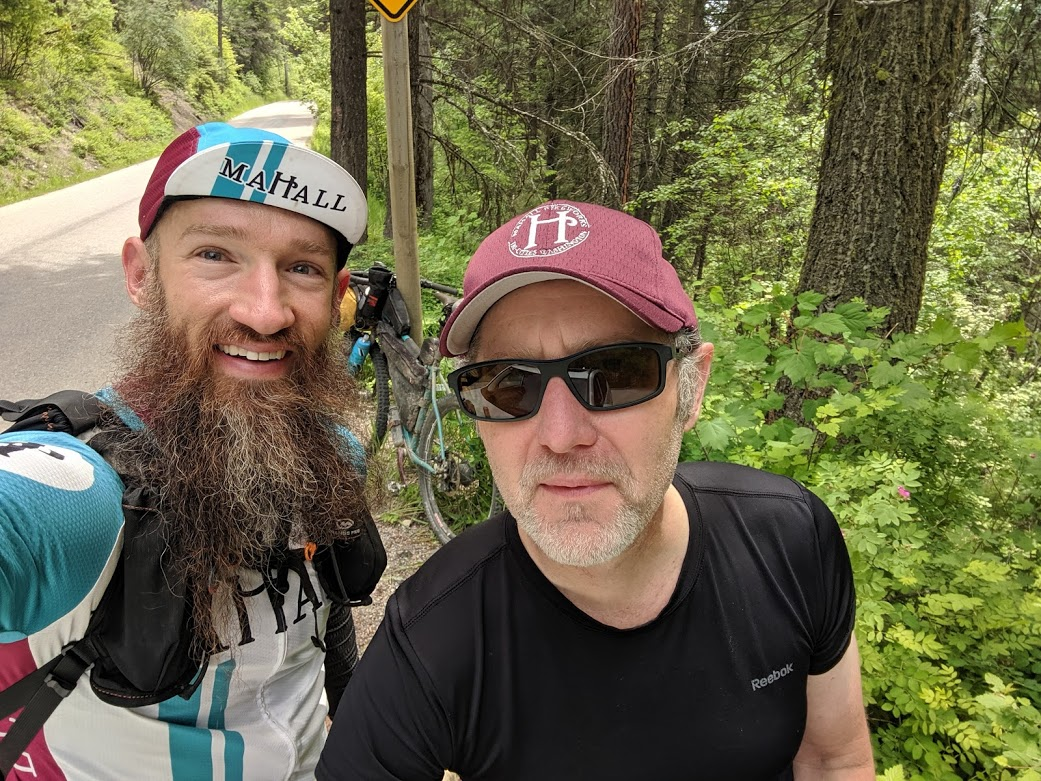 Image: Mark Hall and I just outside of Whitefish, MT. Hard to beat friends, beers, and bananas!
The hospitality did not end there. Mark and his wife Shari had planned a stay at a friend's vacation home in Whitefish around our GDMBR timeline (no complaints from me about a roof over my head and a cozy bed!). As we arrived the drool-inspiring aroma of a hearty pasta sauce was in the air, so Jeremy and I made quick work of laying out our wet gear in the sun and showering so we could enjoy a delicious, home-cooked, protein- and carb-filled spaghetti and salad dinner. After filling our bellies Mark brought us into town to resupply, check out downtown, and imbibe local beer and whiskey. When we returned to the house for the evening Mark and I made the short walk down to a dock on Whitefish Lake, where we enjoyed chatting about the trip, a lakeside beer, and a lovely sunset over the lake. This moment on the dock had me reminiscing about the beginning of our friendship, which sprouted along with the lovely Mahall frame that I was riding on the trek…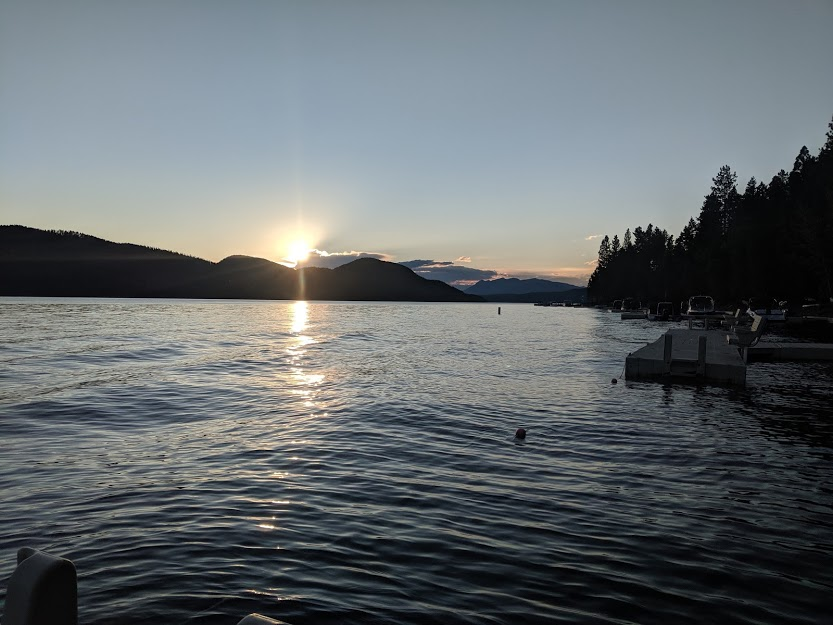 Image: Sunset over the mountains and Whitefish Lake.
The Birth of Mahall 015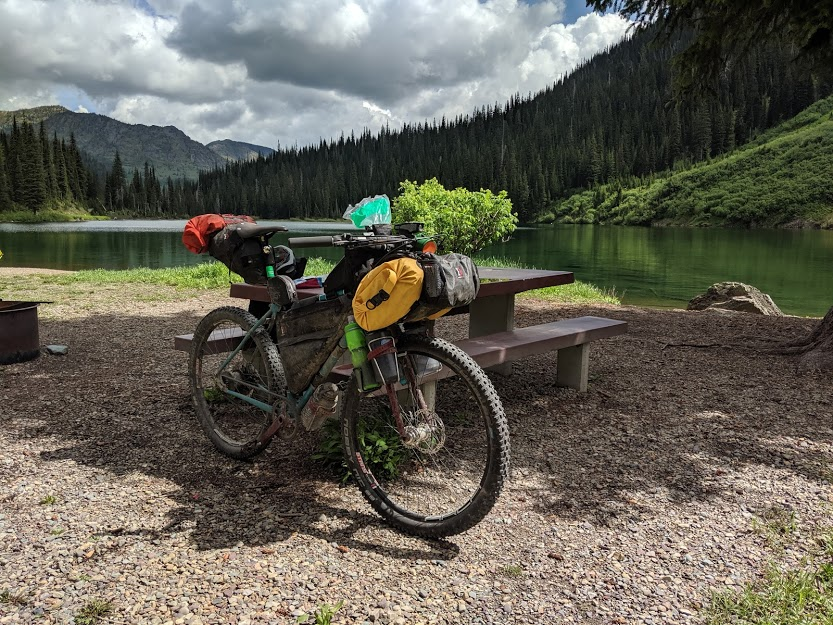 Image: What a beauty! Mahall 015 posing by Red Meadow Lake.
When I started dreaming about the GDMBR over a decade earlier I never gave much thought to the bike I would ride. I got more serious about the trip in 2016, thanks in large part to improved fitness riding with a band of Hooligans in the Tri-Cities of Washington (including Damion from the previous post). Thinking more about the bike I wanted to ride, I realized that bike did not exist. I reached out to Mark with my dream bike wish list in July 2016. From this point forward, I had the best time working with Mark to take the bike from a dream to a reality. Mark was exceptionally responsive to my messages and ideas. I think what I absolutely loved the most about working with Mark on this frame is his willingness to push the boundaries of his framebuilding to meet the needs and desires of his clients. Prior to this bike, Mahall 015, he had never built a belt drive compatible bike or one that had equivalent front and rear axle spacing. He worked tirelessly with Gates Carbon Drive to design and build the bike around their drivetrain and with Ti Cycles in Portland to bring my 142×12 spaced fork to life.
With Mark, the service does not end when the bike leaves the shop – he ensures that his clients are 100% satisfied at every stage of the process from design through application. When there were issues with the belt "ratcheting" (slipping on the sprockets) Mark was quick to work on a solution to the problem with both myself and Gates. To this day I still work with Mark when it comes to this frame and its components, and he has done countless other modifications to the other bike frames in my garage. I always look forward to time spent in the shop enjoying a pint and discussing the next adventure. I cannot recommend Mark enough for the cyclists out there thinking about dipping their toe into the custom bike world – you will not be disappointed.
Next up!
Part III – Hooligans and the Champ
#Bikepacking #framebuilding #greatdividemountainbikeroute #tourdivide #customsteel #whitefish #Montana