Bikepacking.com Rider's Rig
Cameron's Mahall Bikeworks Lugged Gravel Machine

The Rider
– – – – X
I'm a public lands owner and ex-career park ranger. I never expected to find myself where I am today. Up until recently, my focus in life was professional public servitude befitting our shared natural and cultural resources…. However, a combination of working the Malheur Wildlife Occupation in the capacity of a public relations officer during a transition to an anti-public lands administration and my partner simultaneously being diagnosed with cancer led me to abandon decades of goal-seeking in pursuit of a simpler life prioritizing saddle time. While I no longer don the green and grey complete with Stetson, I still consider myself an advocate of our public lands first and foremost.
You can learn more about how my partner overcame advanced stages of cancer while bikepacking and packrafting here; she's way cooler than I am.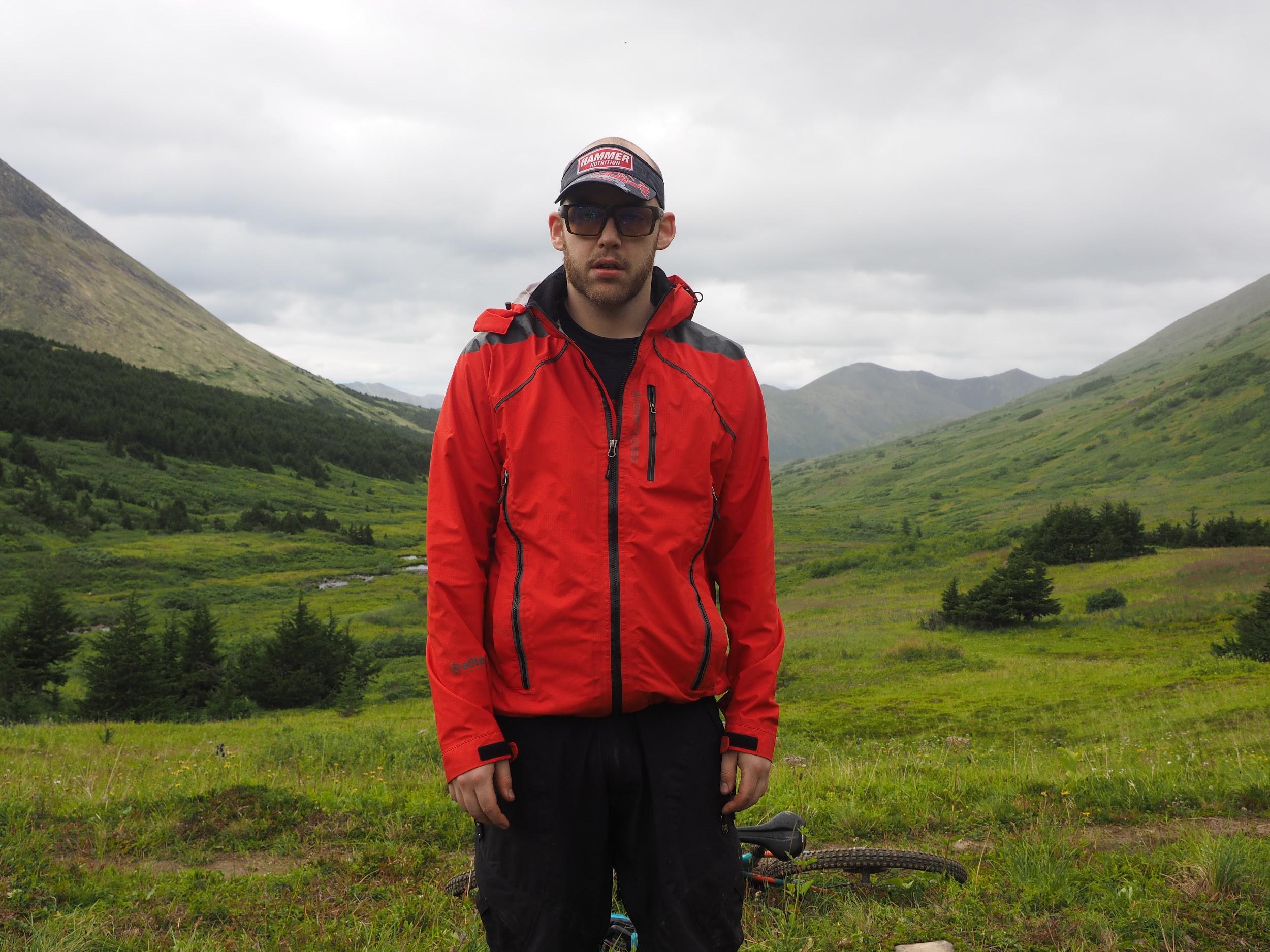 Caving was my gateway sport and made a steward out of me. When I was in highschool I spent my Junior and Senior years intermittently living out of a Dodge caravan while surveying caves for the Missouri Department of Natural Resources and United States Geological Survey. Three days after I graduated highschool I left for Alaska – Alexander Supertramp style – with just a backpack and $500 in my pocket. Upon departure, I had never been west of Missouri, never flown, and still not learned to ride a bike.
In winter of 2009, I embarked on a multi-week backcountry mountaineering expedition which would change my life. As bad as I was at cycling in those days, I was much worse at skiing. An 80lbs sled barrelling down on me, a ski binding which refused to let go, steep alpine topography, and my horrendous ski skillset lead to my knee rotating nearly 360 degrees. A satellite phone and a helicopter nearly 20 hrs later saved my life, but my doctors said I might never walk properly again.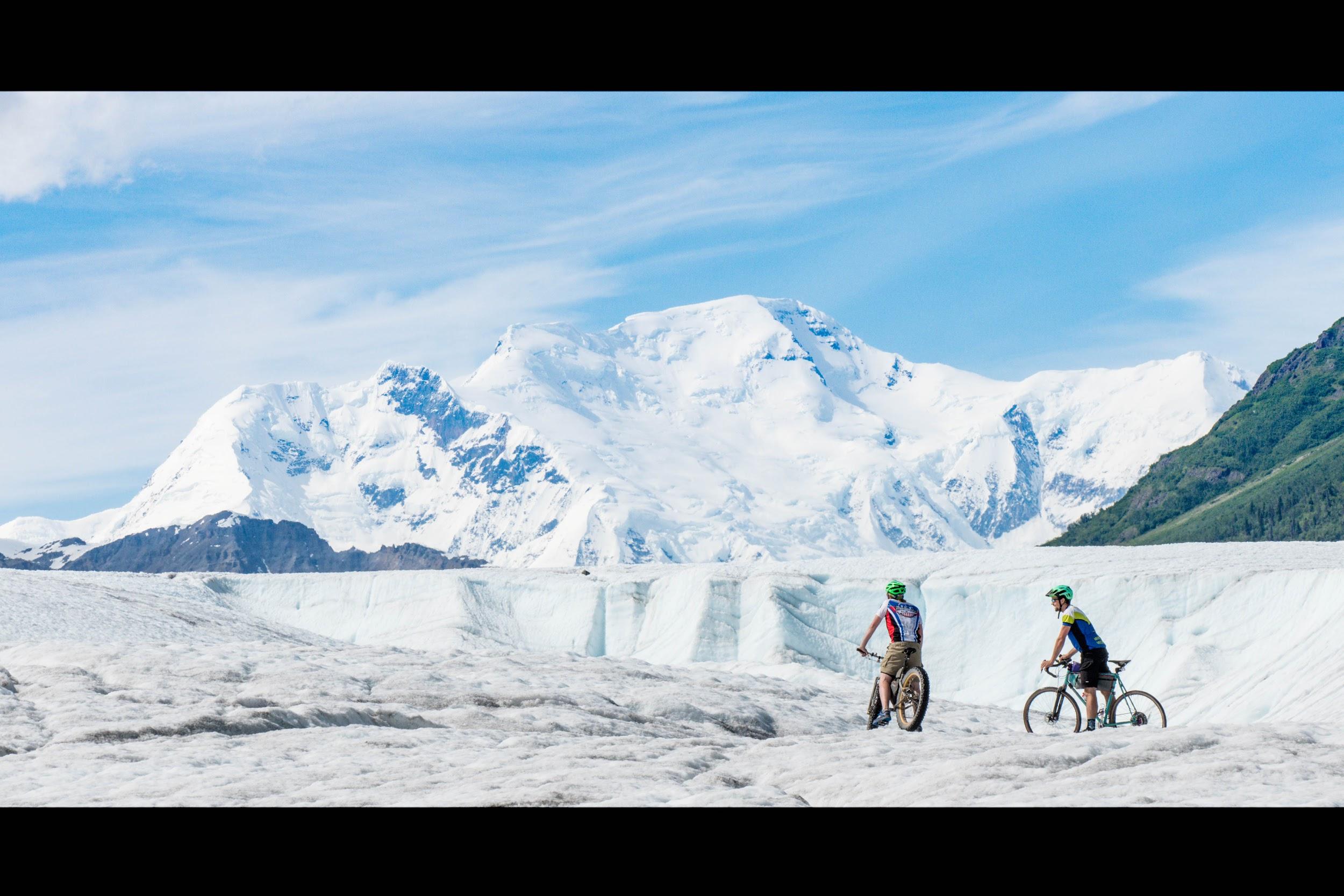 I couldn't imagine a world without romping around in the forests and mountains; I was devastated and afraid. After some reconstructive surgery, my clinical team pushed me to continue to explore the backcountry on bike.
A decade ago the modern 'bikepacking' movement was just emerging along with the birth of fatbikes. I stood at ground zero of the renaissance in the adventure cycling scene and I was learning how to walk again. I found myself surrounded by amazing places and inspiring people. In the pursuit of backcountry, my new physical limitations forged an obsession with bikepacking.
Tinkering with used parts on Craigslist and making plenty of mistakes along the way, became the new norm. Over time my bike builds became more refined as I moved more and more weight off my back and onto the bike. I became the default bike mechanic on hand while stationed at remote sites with the National Park and US Forest Services. Backcountry trips grew in complexity as my desktop harddrive became overburdened with topo maps and day-dream-expeditions.
Over the last decade, my partner and I have moved from one amazing National Park or Forest to another all across the United States. My career allowed me to explore so many mind-blowing places by bike. After I resigned from public service, we packed up and returned to where it all began: Alaska, but our habits of traveling by bike remain.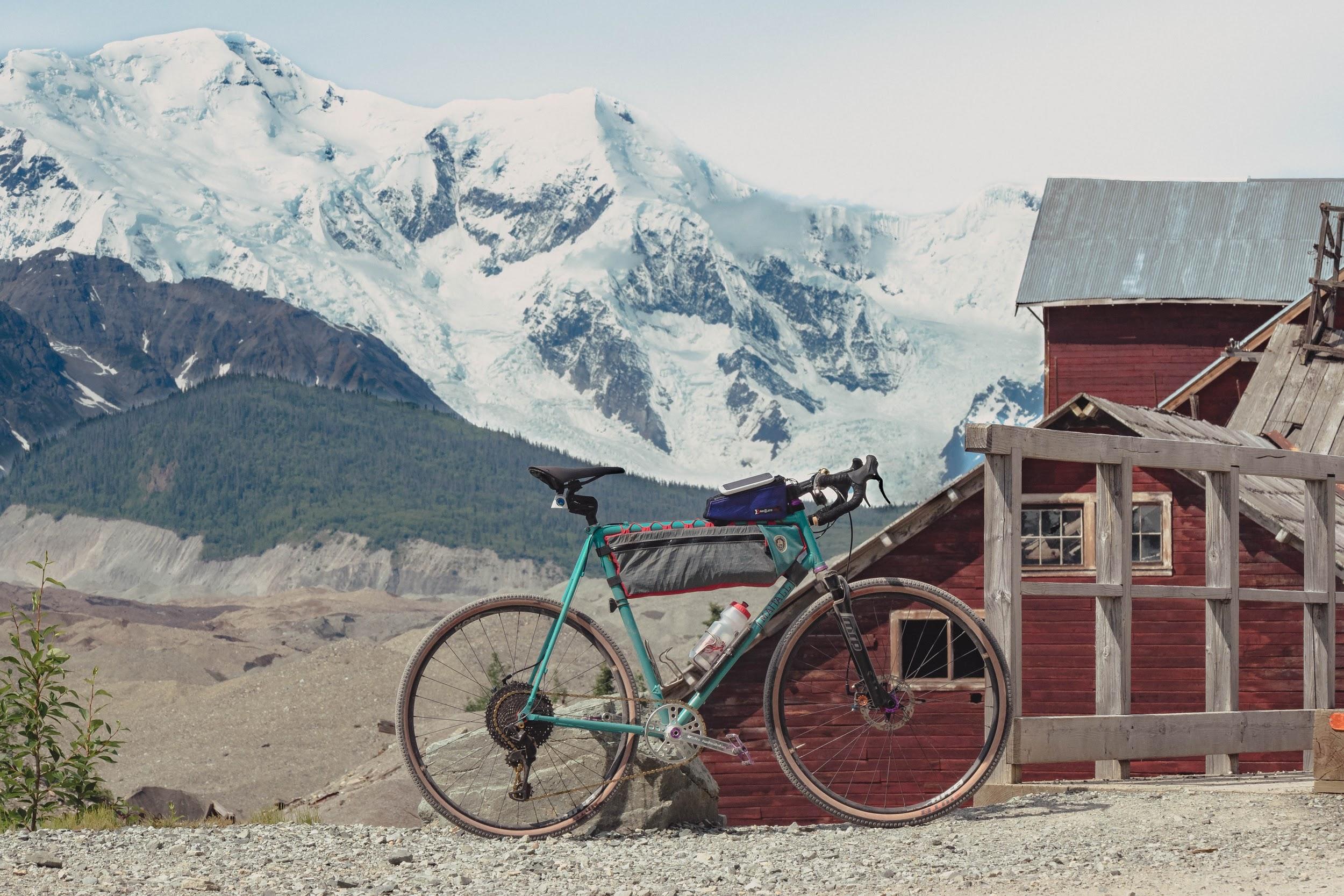 "As for me, I am tormented with an everlasting itch for things remote. I love to sail forbidden seas, and land on barbarous coasts."
~ Herman Melville, Moby-Dick, or, the Whale
The Bike
– – – – X
The origins of my love affair with gravel and thus my gravel bike, stem from Eastern Oregon. Until arriving in remote Eastern Oregon I had almost zero interest in any other forms of cycling than commuting and backcountry mountain biking.
With very little established MTB trail between Boise and Bend, and most of the multiuse trail in the region decades overdue for maintenance choked full of downed beetle and fire kill, I began exploring fire roads and decommissioned motor vehicle right of ways. I found myself continuously aghast at what people would attempt to drive. It became immediately apparent that the 'roads' of this region were quite different than anything else I had experienced before.
The 2 million acre Malhuer National Forest alone contains over 10,000 miles of gravel – and with an absolute bare-bones road crew and budget, these roads have atrophied over the decades into a gravel cyclist's paradise.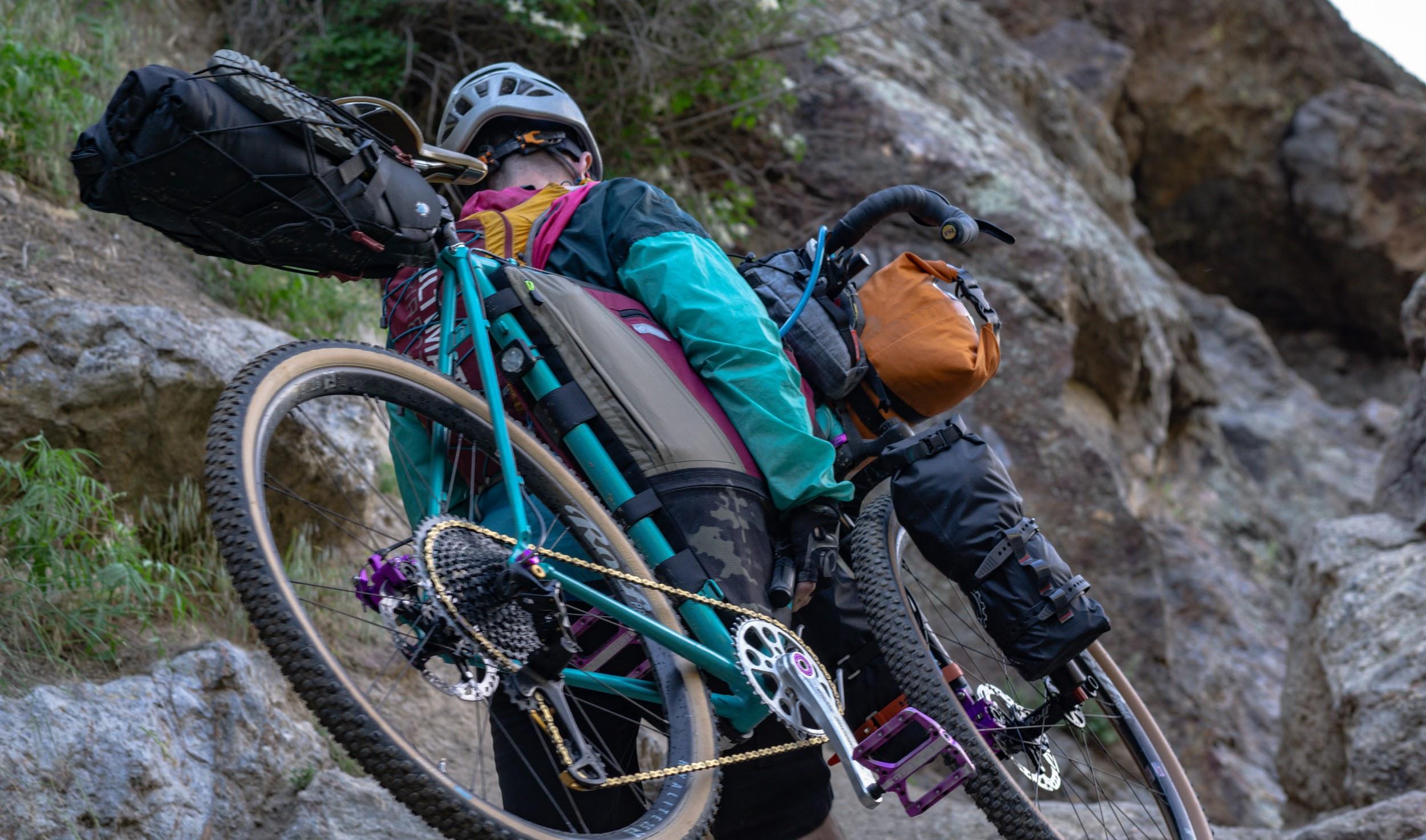 It's difficult to describe just how remote & intimidating this region's landscapes are.
Nowhere else I've traveled – including my homestate of Alaska – has the perfect balance of decaying access & beautiful emptiness which defines the old ghostly homestead, timber & mining roads of Eastern Oregon.
Most other environments would see these paths fade as mother nature reclaims what is hers, however, these landscapes are so extreme it can take a century for a road to fade back into its natural state.
I met Mark Hall of Mahall Bikeworks at the first inaugural Skull 120 Gravel Grind Race in Burns, OR, a collaborative rebranding project I helped fashion in the aftermath of the Malheur Wildlife Refuge Occupation. It's been called America's Most Gnarly Gravel Bike Race and it's a social-political experiment in bridging the urban/rural divide.
I had noticed Mark Hall's personal spectacular handiwork leaning against a fence at the finish line while its owner was walking about with a measuring tape in his pocket studying other rigs. Obviously, when all was said and done that evening, I got Mark's number.
In 2018 I flew down for another Skull 120 event and met up with Mark outside of Bend, OR after a year of email correspondence. He had brought the bike I had seen the prior year for me to try out as we honed in on a custom build. I pedaled backroads from Bend to Burns as a trial run with Mark joining me for the first day of bikepacking, pen and pad at the ready to jot down insights, sizing, etc.
When I got to Burns I kept pedaling and threw in the Steen's Mountain Loop before race day. When I saw Mark again at the starting line, I said, "I want this bike."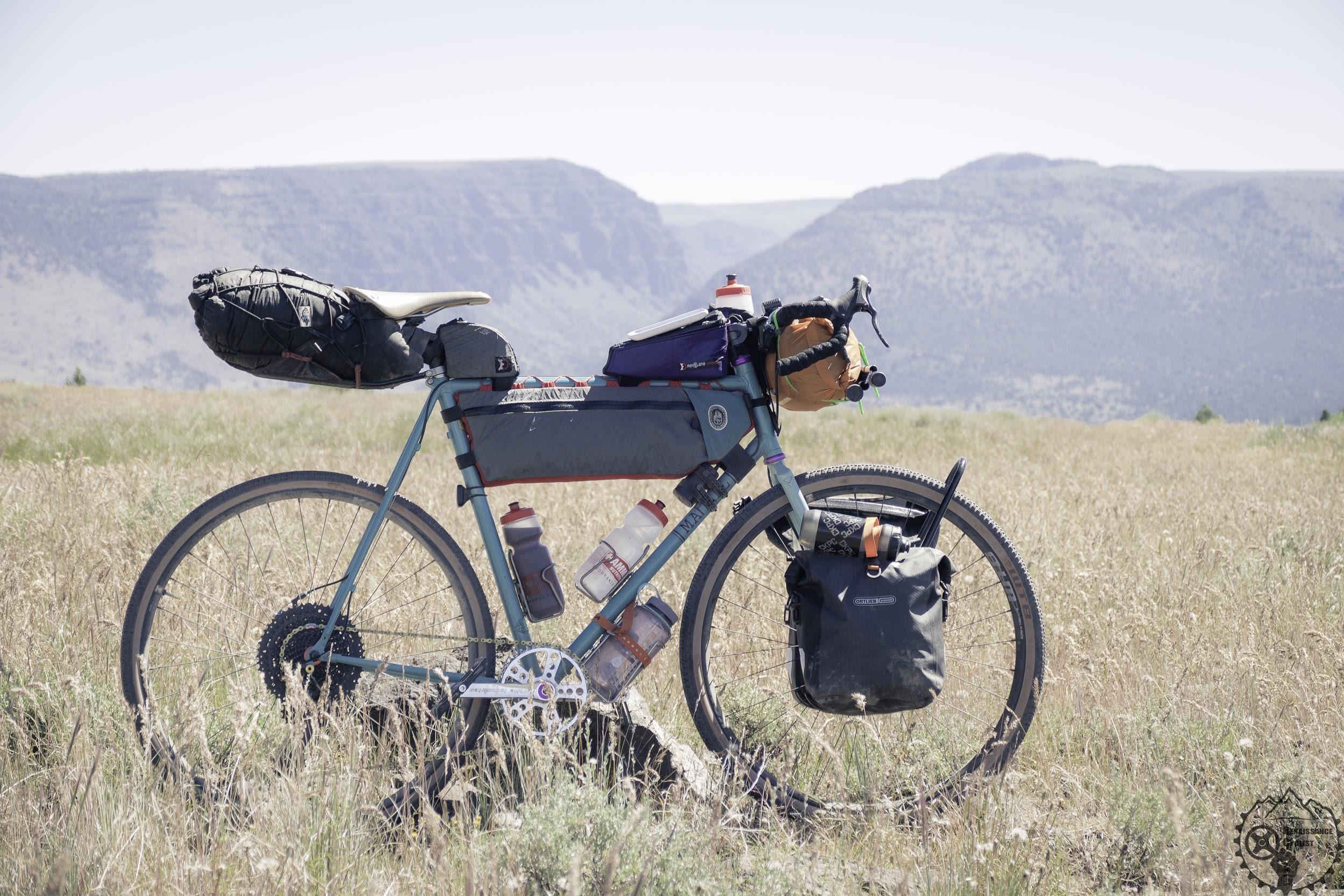 Mark's bike was an absolute behemoth – solidly too big for me, had a non-replaceable derailleur hanger which I consider a non-starter, and was built with a focus on gravel racing, not bikepacking. In any case, it felt right. Mark up and gave the bike to me on the spot saying "we'll build you a new bike when you break that one"… I have a reputation of breaking bikes.
It's been a couple of years now and I still haven't been able to break the darn thing and believe me I've tried. She's been bikepacking through Alaska's backcountry and across glaciers, carried 117lbs of supplies on a multi-week trip through the Owyhee Canyonlands, survived jump lines as I ride the local singletrack on my commute to work and so much more than it was ever intended for. Apparently 631 Reynolds Steel with lugs is a winning combination.
With a new 900+ mile adventure bikepacking race route in the region about to debut, Mark swears he'll force me to retire this tried and true companion. If he succeeds, I'll likely end up with virtually the same bike but with sliding dropouts, more tire clearance and perhaps a degree or two slacker headtube angle.
Click here for an in-depth look into this year's work on the 900 mile Cap the Climax Stagecoach Odyssey route.
"Once we lose our fear of being tiny, we find ourselves on the threshold of a vast and awesome Universe."
~ Carl Sagan, Pale Blue Dot: A Vision of the Human Future in Space
The Spec. Sheet
– – – – X
This bike's build kit has undergone some tinkering over the last couple of years (as you can see by variations in the photos provided). The evolution of this rig has been strongly shaped by my 'gravel" bikepacking endeavors in Eastern Oregon.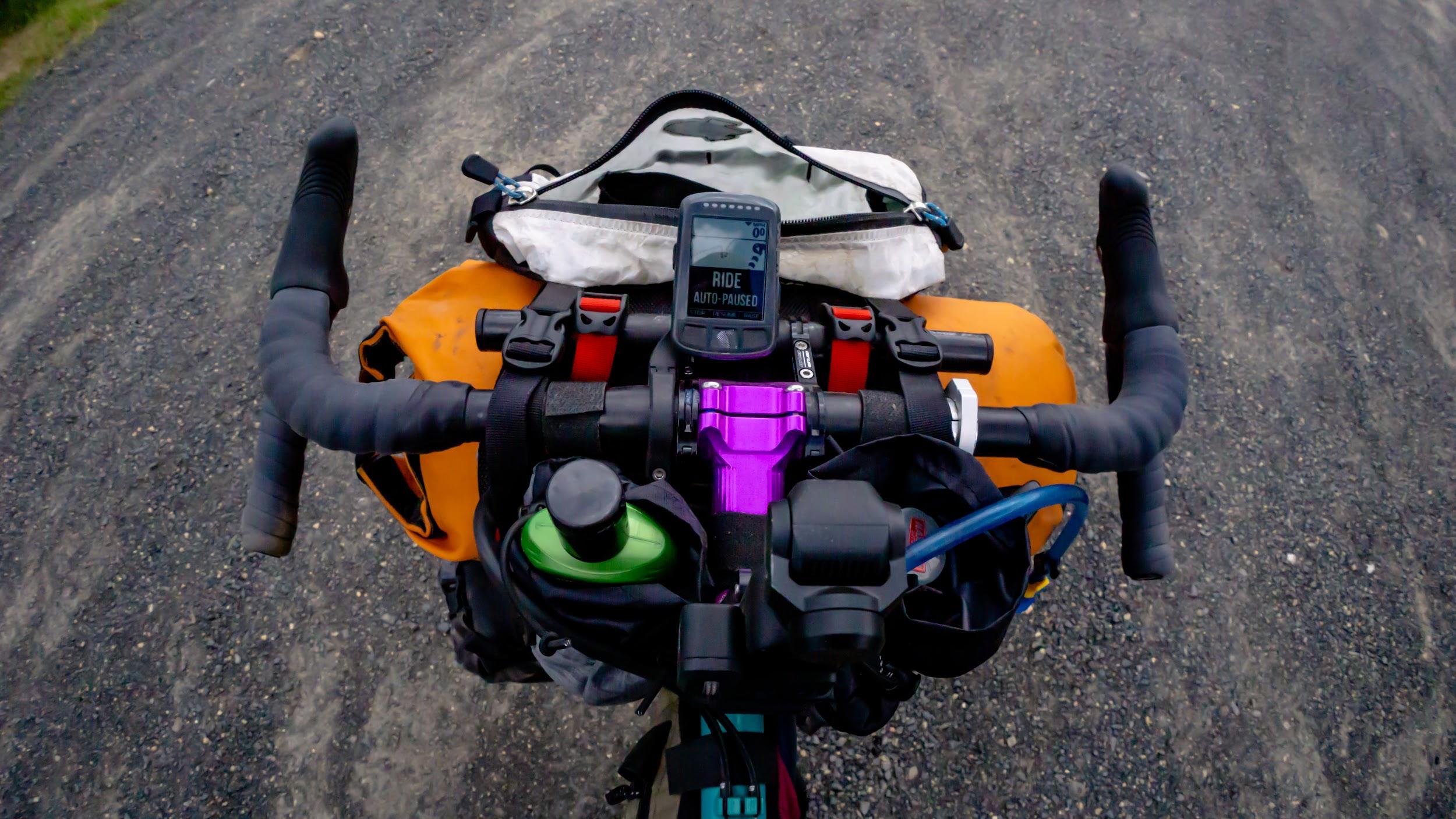 As mentioned, the backroads I find myself exploring are often more reminiscent of enduro singletrack than something you'd send a vehicle traveling down. I have found most dedicated gravel rigs on the market to be under-equipped to handle my ramblings. Likewise, more traditional mountain bike configurations are often non-starters for the sustained, long-distance self-supported travel I embark on when various grades of gravel and fire roads are mixed in.
Below is how the bike sits today and will likely remain:
| | |
| --- | --- |
| FRAME / FORK | Mahall Bikeworks (Lugged 631 Reynolds Steel) / MRP Baxter |
| RIMS | Rolf Prima Hyalite 25 (650b) |
| HUBS | Rolf Prima 100×15 (front) / Rolf Prima 135 QR (Rear) |
| TIRES | Rene Herse Juniper Ridge 650bx48 Endurance Casing (front) / Rene Herse 650bx42 Pumpkin Ridge (rear) |
| HANDLEBAR | Ritchey WCS Venturemax (46cm) w/ ESI Bartape |
| HEADSET | White Industries (straight 34mm) Lower & Cane Creek Viscoset Upper |
| CRANKSET | White Industries G30 Gravel/Adventure Cranks / 40T White Chainring |
| CASSETTE | Sram Eagle X0 |
| DERAILLEUR | Sram Eagle XX1 (I in no way condone spending this kind of $$$ on a Derailleur) |
| BRAKES | Paul Components Klampers (short pull) / TRP RRL Levers |
| SHIFTER | Sram Eagle XX1 Trigger mounted to Paul Components Drop Bar Shifter Adaptor |
| SADDLE | Brooks Cambium C17 |
| SEATPOST | Cirrus Cycles Kinekt 2.1 |
| STEM | Paul Components Box Car (90mm length) |
| FRAMEBAGS | Scavenger Bags Full FrameBag / Andrew the Maker Half Framebag |
| OTHER BAGS | Porcelain Rocket Mr. Fusion Saddle Bag / Baryak Ultra with Voile Straps and a 10L Drybag for Barbag Kit |
Changes Over Time
If this rig was a commuter, racer, or even weekend warrior bikepacker I would have likely let things be. It was the fear multi-week solo trips across the high desert instilled in me which forced a niche lens to my desires and thus, the bike itself.
My first component change was a big one: I swapped out a gorgeous Mahall Bikeworks steel fork for the 40mm travel MRP Baxter. At the time, I was going through a rigid phase so it turned some heads when I tossed the only suspension fork I owned on my gravel rig. If any wheel in my quiver was going to end up tacoed, it was going to be while gravel bikepacking barrelling down chunky roadbeds at dusk when a stray pothole decides to leave you stranded. I set up the MRP to be stiff yet blow off steam on big strikes, saving my rim from having to endure most of any sting.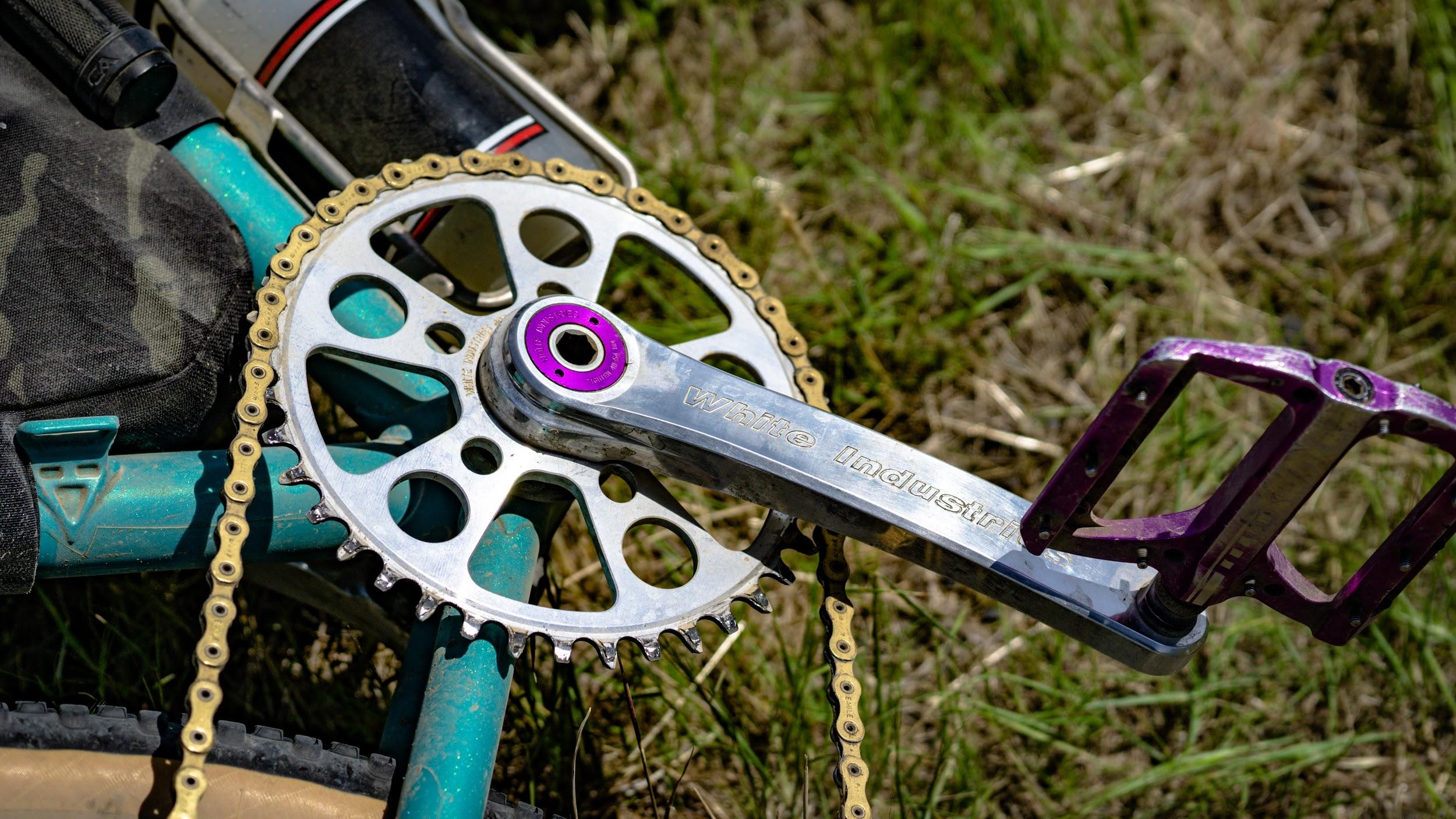 A big round of changes came on the heels of a large route scouting mission June 2019 through the Owyhee Canyonlands. I swapped out my Andrew the Maker half framebag for a truly monstrous full framebag by the secret bag maker – Scavenger Bags – capable of holding more than 10L of water plus misc. supplies. A frame two sizes too big means two more liters of water; a fair trade when crossing remote desert landscapes. My 44t White Industries Chainring got dropped down to a 40t. My 100mm Thomson stem became a lovely 90mm Paul Boxcar stem in purple because matchy-matchy and stems deserve more than M3 socket heads.
It pained me to pull my purple White Industries upper headset but the advantages of the Cane Creek Viscoset were too numerous to pass by. All my bikes of late have made room for Viscosets which are particularly useful for bikepackers – especially gravel bikepackers – and one of my favorite innovations to cycling componentry in the last decade. Bikepacking.com did an article on them if you're curious (which you should be). One nice tidbit the linked article forgot to articulate is that Viscosets allows you to push your bike single-handedly while it tracks straight and true and that the wheel doesn't come swinging right at your face when you've got to carry it over some damnable mountain.
The most substantial change for this expedition was the move to 650b Rolf Prima Haylite 25 Wheels. The 650b platform freed up some more tire volume which I filled with my first set of Rene Herse tread in their new endurance compound which I have been made a believer in. While my bottom bracket height dropped a tad, the trade-off was well worth it.
I started riding Rolf Prima wheels spring of 2019 with the recommendation of Mark Hall and Rolf Prima coming on board as a major sponsor of the Skull 120. I'll admit I was more than a bit skeptical. I'm no weight weenie, and I push my gear hard. Given the remoteness of my adventures, I put durability as the top requirement of all my cycling purchases and I just couldn't fathom how a 24 spoke wheel could cut the mustard. Half a year has gone by on three different Rolf Prima wheelsets which have been thoroughly bikepacked and abused and I haven't had to true any of them once. Surely there's some kind of voodoo witchcraft afoot, but I'm not complaining.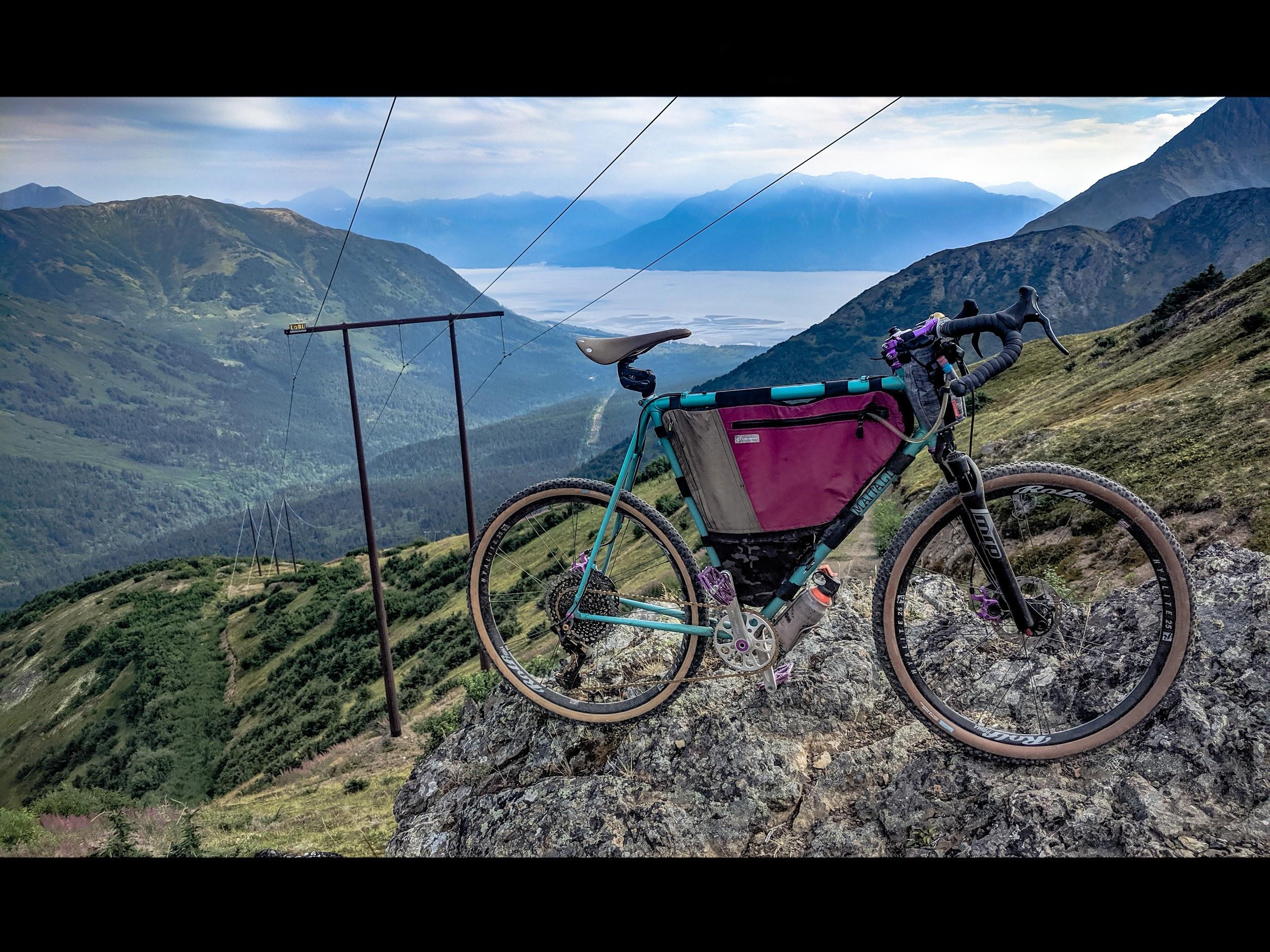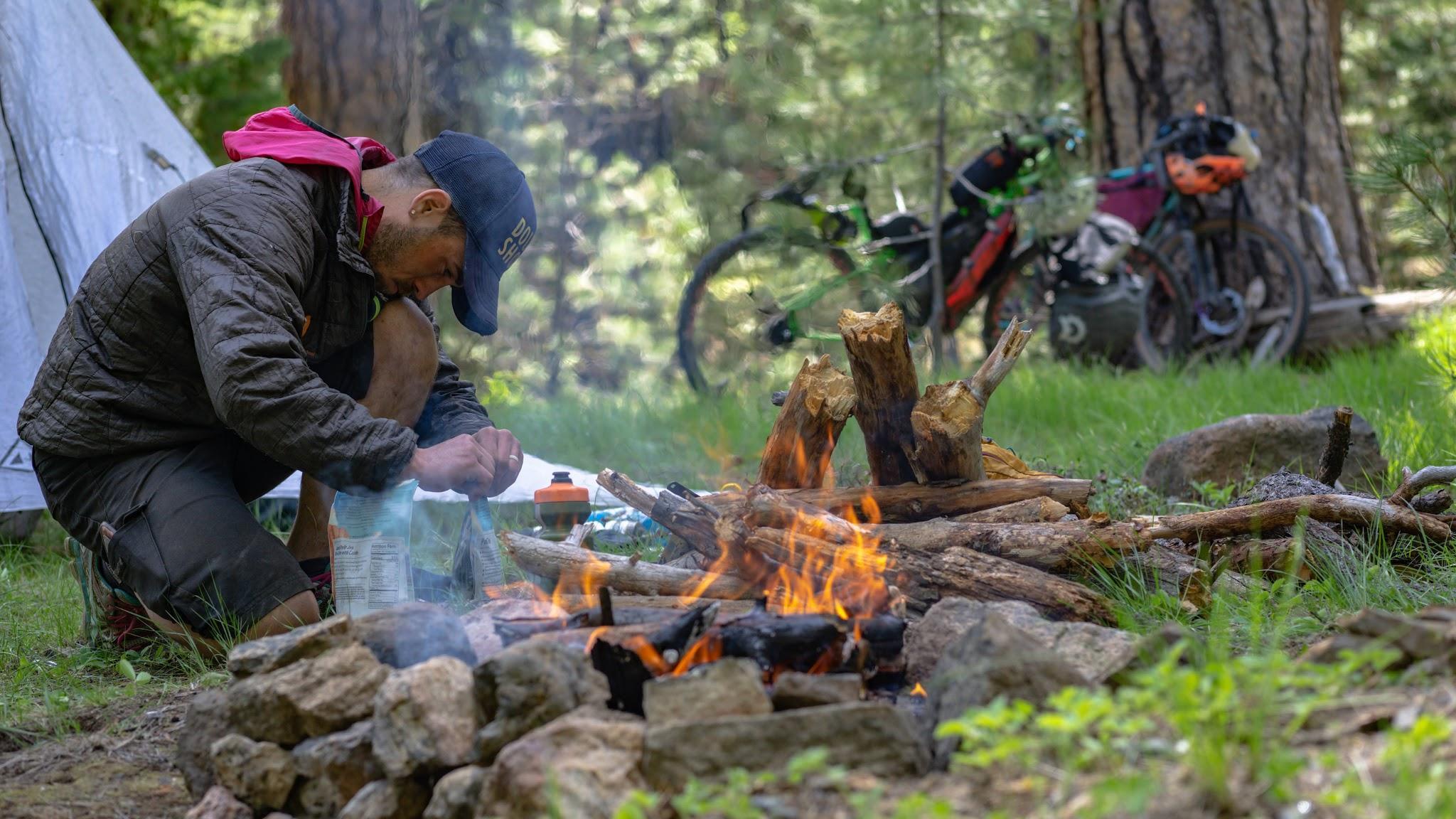 Other Component Choices of Note
In my humble opinion, Paul Klampers are the best gravel brakes money can buy. Are they worth the additional investment over BB7s? I'd say it depends on your goals and budget. Given the degree of remoteness of my travels, the investment has proven worthwhile to me.
Another Paul piece of note is the Sram MTB shifter mount for drop bars. This piece of gear has been on the bike since day one and is the blackhorse of the group. I honestly did not expect to like this mounting configuration and planned on changing over to the microshift Eagle bar-end shifter (another great no-nonsense shifter option for MTB groups on dropbars) before I had ever even ridden the bike. While it did take some tinkering to get the shifter mount configured in a way that wouldn't interfere with other cockpit mounts and bar bags, I absolutely love this mounting solution. I do not find the shifting position to be of hindrance and it's worth noting I ride in the lowers – far from the shifter – much of the time.
Lastly, my Cirrus Cycles Kinekt seatpost paired with Brooks C17 Cambium is my best friend on big gravel adventures. Having come from the position of using a Cane Creek Thudbuster, I must say there is no comparison between the Thudbuster (meh) and the Kinekt (outstanding). If you're listening Cirrus Cycles, kindly look into moving your spring tension from the rear of the post head to the front so us bikepackers can adjust the tension while using saddlebags. Better yet, add some sort of dial which can be adjusted on the fly as I find myself wanting to adjust my spring tension throughout the day on big rugged gravel expeditions.
Follow my adventures on my Instagram feed @Renaissance.Cyclist.
"With 'Skull' event, Burns stakes a claim as America's best gravel riding destination!"